R e n d e z v o u s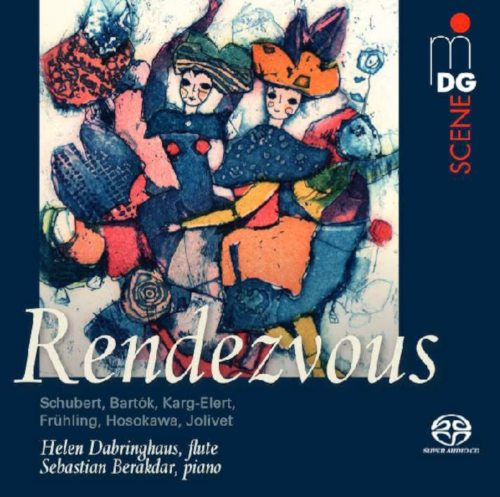 Rendezvous
more information
MDG 903 2043-6 (Hybrid-SACD)
Frühling
: Fantasy op. 55
Bartok
: Suite paysanne hongroise
Karg-Elert
: Chaconne op. 107, 30
Schubert
: "Trockne Blumen" Introduktion & Variationen D. 802
Hosokawa
: Lied für Flöte & Klavier
Jolivet
: Chant de Linos
Helen Dabringhaus, Flute
Sebastian Berakdar
, Piano
Reviews
The latest review, published in Flöte aktuell 4/2018, can be found
here
.
Click
here
for the review of my
SACD in Fono Forum 3/2018.
Rendezvous was chosen as
"AUDIOphile Pearl"
by the magazin AUDIO.
www.klassik-heute.de has awarded my SACD with the
Klassik Heute recommendation
.
The review of www.classicalcdreview.com can be found
here
.
Another review
was published on 09.03.2018 in the Lippische Landeszeitung.
In France we were running on the
radio
(22:37 - 39:21).

"Helen Dabringhaus proves to be a masterful advocate of sophisticated matter. Her slender, flexible and above all beautiful tone sounds controlled and balanced in all registers. Musically everything seems almost cool at first, but fascinating are the interpretations, which are precisely designed with intelligence up to the last nuance, especially in the interaction with the excellent pianist Sebastian Berakdar."
(Fono Forum)



"The young flutist, perfectly accompanied on the piano by her piano partner Sebastian Berakdar, lets the blue ribbon of spring blow through the air in a wonderful and sensitive way, thus initiating a programme that, behind its seemingly simple composition, is far more than a superficial advertisement for personal skill."
(www.klassik-heute.de)



"...a very amazing CD debut with a lot of surprises...the appetite is whet for more, with an enjoyable program played beautifully by the two musicians."
(France Musique 29.12.2017)
Available in shops or
order here!
Back to top
i / n
×
<
>